This past Saturday I completed the 50 Miler at the
19th Annual Haliburton Forest Ultra
. This was especially sweet for me for a number of reasons. It was my first official Ultra finish. It was the furthest I have officially run (though I think I covered more distance in my aborted
2012 Spartan Death Race
, but that was more rucking than running and it was never measured as such). And it was a return to the "crash & burn" of my poorly considered attempt of last year's 100 Mile event, where I dropped at about 35 miles with severe foot pain (from bunions and an unhealed break from the 2011 Death Race).
I arrived at 6pm for registration and a huge feast/fuelling, at which they made all the usual announcements and reported that the trail was in great shape but that big rains were in the forecast. They then had everyone introduce themselves to the whole group, which was a nice touch. That gave me a chance to connect with Joe Mauko, with whom I have shared an email correspondence over the past several months, inspired by this very blog. Joe is a great guy who has logged some serious ultra mileage this year and who has a great philosophy and attitude.
I ate with the magnificent Elise Maguire, whom I had met at last year's race (where she had just finished the 50 as I dropped from the Hundred). We have been Facebook friends ever since and had fun catching up. She shared with me that she had two concerns about the race. One was a nagging glute injury about which she could do nothing but hope it did not become reaggravated. The second was a dread of running in the rain. She had cut her "Dirty Girls 24 Hr" short a few weeks ago - having just returned from an awesome performance at the Canadian Death Race (finishing under 22 hours!), she was still exhausted and found that the non-stop rain drained her spirit quickly. Sensing a potential repeat of that experience with the shitty forecast, she shared that she hoped she could find a way to boost her spirits if she was faced with another miserably wet run. I told her that hypnosis could definitely help shore up her mindset and, after dinner, found myself conducting an impromptu treatment in the front seat of my car! Ultimately Elise did drop at 30k (of her 100 miles) with severe spasming in her glute (earning her the nickname "Pain In The Ass" or "PITA"), but she shared with me after that she had seen clear evidence of the effectiveness of the hypnosis ("I have never been so happy running in the rain! I was actually having fun!!").
At 9:30pm, I climbed into my sleeping bag in the back of the car and popped this rather appropriate movie into my DVD drive ...
It was about 10:30pm when I fell asleep and I woke up a few times to the sound of rain falling. It continued to pour through the night and the parking lot was a mud-bowl when I rose at 5am. I got dressed in the car - compression underwear, comp tights, board shorts, my
Mud Mafia
T, light black windbreaker, thin running socks under knee high compression socks (after slathering my feet with Vaseline and Gold Bond - a magical combo), my LOVE trucker-cap and a headlamp. I made a risky decision, on which I will expand shortly, to wear a brand new pair of shoes for the race, then stuffed extra socks and a bunch of gel packs into my hydration pack, and headed in for breakfast.
After some coffee and bagels, I got in line for the bathroom. Note to self: next time do the bathroom thing first. You can always hustle to the start with a bagel in your hand. Not so much while you are pooping. Thus, I heard the 6am race start 100 yards away from where I sat with my pants around my ankles - haha! No worries, as I hadn't planned a sprint anyway, so I quickly wrapped up, washed up, and ran across the line with several other stragglers. A few hundred yards in I passed my dear friend "Irish Joe" Cleary. Joe and I met as we struggled along in the Hundred last year. Neither of us finished that one, but Joe is about 30 years older than I am and made it about 30 miles farther! We reconnected in Vermont in March, where Joe was doing the
Peak Snowshoe Marathon
the same weekend I finished the Winter Death Race. Truly one of my favourite people. Joe told me he was doing the 50km race this time, and he had a walking stick in his hand - obviously committed to a slow and steady day.
I found that I remembered the course surprisingly well. It starts on a dirt road for 2 km before hitting "Station Two" where we did a 10km loop around a lake, passing Station Two again as we headed straight out into the woods for the next 28km. Somewhere along the way it became daylight, though it wasn't like last year's glorious sunrise as the rain was not letting up one bit.
This race is first-class across the board. The aid stations are like oases, stocked with everything you could ever wish for! Sandwiches, nuts, fruit, salted potatoes, candy, energy bars, Coke, water, electrolyte drinks, and super nice people! The course is very clearly marked, with an awesome variety of terrain. The hills are steep and technical - lots of exposed rock and roots along the singletrack. And the flats, usually dry and fast, were massive bogs. The rains were monsoon-like for the first few hours, and the ground got chewed up fast.
I started the race with a "loose" goal of 12 hours. I did make the 25 mile turn in 6:05, but knew the return run would be slower. I felt great but my hip flexor (right side) was getting very tight from the constant stride adjustments for the mud, and the course would only be that much muckier going back.
One of my favourite things about an "out and back" course, is passing the leaders going the opposite direction. I am always inspired to be reminded that I am sharing the day with such amazing athletes. The ultra community, in particular, is so friendly and encouraging and these uber-runners are always just as enthused for me as I am for them. I strive to help fuel them with some extra positivity in the 30 seconds as we approach and pass, and I love when they introduce themselves later, usually remembering me for my fun hat and the genuine joy with with I run despite my obvious lack of actual skill :). One of the racers who I would have seen twice (his coming back in from 25 and heading back out from 50 as I finished, since he was doing the 100) is Johnny McAlister. Super nice guy, focused but friendly. He ended up winning the Hundred, and it wasn't until reading his race report (
here
) that I knew the extraordinary circumstances under which he was taking part. Please stop reading and click (
here
) to read his post. It is a beautiful expression of love and commitment and gratitude. My hat is off to Johnny, not just for winning a grueling race but for being an amazing human being. Did I mention that you are not allowed to continue reading my blog until you have clicked (
here
) and read his? Assuming you have followed those instructions, now take a moment to soak in that WOW, blow your nose, and carry on.
I hit the 25 mile turn at five minutes past Noon. I felt fantastic, and had been running with Joe Mauko for the past several minutes. Joe was looking good, and knew that he had 75 miles still to go. I would later hear from him that the wheels fell off for him not too much later - his legs began cramping so badly that he could not move fast enough to keep up his body heat and had to withdraw. I have asked Joe to consider running the Hundred together next year, as I like him a lot and I know he can finish. It would be great to help one another "avenge" that particular DNF.
The rain was stop and go now, but the temperature had dropped considerably with a cold wind. I no longer had my jacket, which I had left at a station (and they kindly returned it to the base), and I think this actually helped me as I did not want to slow down and get chilled. I was still running reasonably "hard" on the flats, scampering down hills and hiking up them. The miles were taking their toll though, and by the 30 mile mark my right ankle was swelling and shooting pain, and my right knee was throbbing. I suspected that the pain in my right ankle, right knee and right hip may be connected, if only for the simple reason that my right ankle, right knee and right hip are connected - DUH! Not wanting to risk stalling, I blew through the next aid station and kept my head down.
Miles 30 to 40 sucked, plain and simple. I was sore and I was cold. I had also seen an inordinate number of good runners drop, discouraged by the rain and mud. What got me through those few hours was the same advice I had given the day before to a Death Race compadre, Robert D. Burleson. He had posted on my Facebook wall, "Johnny, any words of wisdom for someone who is fearing running an endurance race this Sunday? Are you nervous before races or relaxed? Thanks for your time Johnny, I greatly respect your opinion." My reply was...
Absolutely Robert! My thought is that there is nothing wrong at all with being afraid. In fact, being afraid and doing it anyway is the coolest thing of all. @

Jason Jaksetic

taught me last year, when he spent 10 minutes neck deep in the Tweed River in March, that "I'm cold and this hurts" doesn't have to mean anything more than "i'm cold and this hurts". Just like "i'm afraid" doesn't mean "don't do it" or anything else. It just means you are afraid. Which really just means you are alive. And then acting in the face of that fear, and doing epic stuff, means - in my humble opinion - that you are fucking awesome!!! Go get it. And when you are tired, all it means is you're tired. When your feet bleed all it means is your feet are bleeding. When you feel like quitting all it means is that you feel like quitting. So what? Keep going!! Let me know how it goes, brother! Sending huge respect and big love!
A bit of practical advice. Spend some time Saturday sitting with your eyes closed generating all of the great feelings of joy and accomplishment you've had, and remember what you love about endurance racing. Get super present to how that feels. Then, several times.throughout the day, regenerate that energy from scratch. On Sunday, whenever you are hurting and struggling, pause to take a few deep breaths and bring that all back. It will make a massive difference :)
And that is exactly what I did (also exactly what I had worked with Elise on) ... generate, from scratch, all of the wonderful emotions and energies that I loved about these events, right in the middle of "the shit". In hindsight, that is what I stopped doing at the 2012 Death Race - lesson learned. Many, many times on Saturday I forced myself to smile and laugh and dig deep, and it paid off beautifully. As I passed through the aid station at the 35 mile mark, I told the volunteers that this is where my day ended in 2011 '"but not this year" and carried on with a "Hell yeah!!" whoop.
When I got to the 40 mile mark I knew the rest would be "easy". Not because the course got less challenging, but simply because "ten miles" is such a nice number. Only ten miles, only nine miles. Here I saw Steven Parke heading back out for his second 50 miles. I was sorry to hear from him that Elise had dropped early, but happy to see him looking so solid heading into the second half of his race (Steve's is a great story - he had SEVEN STRAIGHT DNF's at this race coming into the weekend, and always came back with a smile and more resolve. So many people were thrilled when he finished 100 Miles this year in 23:41:59! Awesome guy and awesome result!). But back to my race... where was I? Oh yes, only eight miles left. I started running faster, knowing I was nearing "home". Soon it was aid station 2 again, the loop, Aid Station 2, and a 2 km sprint up the dirt road to the finish. I crossed the line in 13:20 (I still haven't seen the "official time" for Bib #147, but that is what my watch said). And it felt great!!
So, I went by the car to drop off my pack and then headed into the dining hall. The chicken would have probably been awesome had I made my 12 hour goal, but was understandably dry an hour and a half later. Still it was delicious, along with potatoes, salad and carrot cake washed down with coffee. I texted Elise and she joined me for dessert. She was in great spirits, knowing that she has had an incredible season. She has been running seriously for less than two years and, at only 30, has her best years well ahead of her.
I was debating: "Do I stay here and drink beer with a bunch of awesome people then crash in the car again or do I drive home and sleep in my Egyptian cotton sheets on my warm Tempurpedic bed?". I decided a compromise was in order ... "Stay for ONE beer, and THEN head for my own bed!"
I am very glad I stayed. Elise said "Come with me. You have to meet the coolest people. They are all from Ottawa and travel to races in the 'Ultra Van'. And they are so much fun!" Moments later I was climbing into a pop-up VW Westfalia where I did, in fact, meet 5 more of the coolest, most fun people. I had my own beer in hand but they opened their cooler anyway, which had a sign "FREE BEER - RUNNERS ONLY". Elise and I used the cooler as a seat, and visited for about 45 minutes of non-stop stories and laughs. I do not remember all of the names (I hope to get to know them all better at future races), but I know that one was Neil Rosenthal who had finished the 50 Miler in 8.5 hours (wow!) for, I believe, 2nd overall. And Tara Rosenthal. And Sereena Trottier. Hey, I am doing pretty well at this name game!! They were fun and friendly and had great running stories. They are also all close with Ray Zahab, a Canadian running legend (of "
Running The Sahara
" fame - a fantastic documentary produced by Matt Damon) with whom I have a funny connection. Ray is married to the sister (Kathy) of my brother's ex-wife (Heather). Ergo, he was my brother's brother-in-law. I have not yet met Ray in person, but we have communicated online and intend to connect soon. They spoke so highly and, most importantly, fondly of Ray that I look even more forward to that now.
Finally, around 10:30pm I said goodbye to everyone and started driving home. Perhaps, not surprisingly, I soon found myself fighting hard to stay awake. I quickly recapped my last 24 hours ... fitful sleep in the car, run 50 miles in the rain, big dinner and a beer. That was not a good formula for staying alert for a 2 hour drive home in the dark. So, I pulled over on a sideroad, climbed into the back again and crashed in the car for a second straight night.
A happy, proud, sore 50 mile ultramarathoner <3
P.S. This is the review I posted to Salomon's Facebook page ...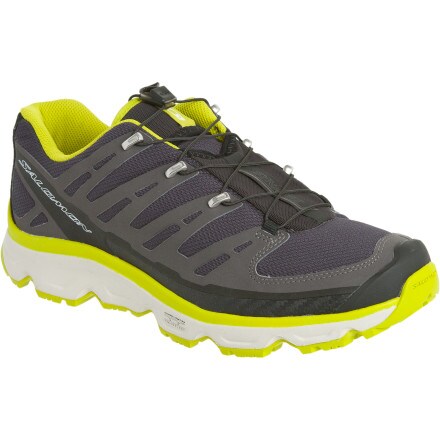 "I don't know where to begin telling you how much I love my new Salomon Synapse trail shoes! After dropping out of a number of trail races last year with horrible bunion pain (tailor bunions on baby toes), I had given up on trail shoes (donating both my Nike and Adidas to a homeless shelter) and was running in blown-wide gym shoes, sacrificing tons of traction in favour of comfort. Then last week, on a whim, I bought a pair of Synapse (just because I'd bought my son some skate shoes and got 50% off another pair). As they are an entry level shoe, and priced very reasonably, I did not expect a whole lot but thought I would give them a try in a mud run. What I did NOT expect to do was wear them in this past weekend's 50 mile ultramarathon (my first). But as I slept in my van on the eve of the race it rained so hard that I knew I would be waking up to a sloppy mess. I decided to break a cardinal rule and wear brand new shoes in a race. 50 miles later, setting PR's for distance and time in horrendous conditions, I was in love. I had NO blisters at all. No black toes. No throbbing bunions. The shoes were not waterproof, but never claimed to be. In fact, my feet were underwater (mud) for much of the race and being poured on for the rest of it. But these shoes drained and breathed so well that my feet were never stewing and I did not even change my socks once (thin pair of running socks under knee high compressions). And, while they looked boxy at first, they were extremely stable and comfortable. Just as impressive was the grip. They chewed into the mud giving me great traction ascending and solid footing descending. And on the exposed, slick granite, I was able to plant confidently at 45 degrees going up AND down, never slipping a single time. Even on the limited sections of hard pack and gravel road, the shoes felt reasonably light and fast. I have never been so pleasantly surprised by a product in my life. Just thought you should know."