I am sitting in the
Pittsfield General Store
this morning, on Rt 100 near Killington, VT. It is one of my favourite places in the entire world (well, at least in the entire world that I have visited so far). I drove down yesterday from Orillia, Ontario, in a winter storm the whole way. What would usually be a ten hour drive took fourteen, being very careful to not join the many wrecks I passed along the way. Arriving at 10pm last night, I walked into the open front door of the
Fleur de Lis Lodge B&B
, and headed straight up to Room 6. It is my third stay at this beautiful inn, and proprieters Lou and Elaine greeted me at breakfast with the nicest "Welcome Home, Johnnny!" before serving me delicious eggs and english muffins, with cold orange juice and hot coffee.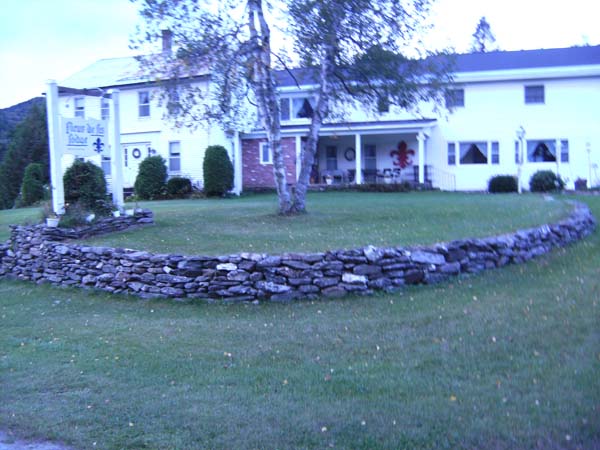 And it does feel a lot like my home away from home. This is my fifth trip to Pittsfield, VT in less than a year. The first was last March, for my
initial Death Race training camp
. Like on my
second trip in May
, I slept in the back of my car, as most of my time was spent on the mountains; running, snowshoeing, chopping, carrying, wading, etc. For what can be described as a "sleepy little town", I spend remarkably little time sleeping when in Pittsfield! Last night was the exception, though, as I logged a solid 9 hours of zzzz's, resting up before tonight's Winter Death Race.
The Winter Death Race is just one of the many things going on in Pittsfield this weekend. With a population of only 400 people, it is amazing what all goes on here. There are 60 of us here for WDR. There are dozens more taking part in a snowshoe ultramarathon - including my good friends
Jason Jaksetic
and
Michele Roy
(click on their names to read their amazing blogs, where I know they will report on their adventures). There is a big wedding going on at
Riverside Farm
, filling any rooms at the inns and B&Bs that weren't already booked up with skiers enjoying Killington, Pico, Sugarbush and Stowe - all within 1/2 hr drive.
I got to the General Store early this morning, setting up in a corner with coffee and wifi. This is my view. The first person I saw was John, who I met back in October when I was down here helping rebuild a bridge that had been destroyed by Hurricane Irene. He remembered my and brought me up to speed on what's been going on over the winter. Soon,
Matt Baatz
and
Margaret Schlachter
came in for breakfast. I finally got to meet Margaret in person and congratulate Margaret on her recent
Bloggie
win -
best sports blog in the world
! It is in that same blog that Margaret graciously mentions me in the post about "
People I Don't Know
", about virtual friends who make a big difference in our lives. And I asked Matt to tell me about his
incomparable mountain trail system
, that he is steadily building into one of the great mountain biking destinations on the planet. And, as we chatted, the store gradually filled up with skiers fuelling up before hitting the slopes and wedding guests greeting one another and planning this afternoon's nuptials. Truly the greatest energy, all backed by the grooviest soundtrack on the sound system (I remember Mumford and Sons, Midnight Oil, Jack Johnson, Beck, Marvin Gaye, just to give you a flavour).
I am very much savouring this vibe, as it will be very different than the rest of my weekend. Starting at 6pm I will be heading out on a mystery mission, comprised of incessant exertion and mind over matter pain tolerance. While we know nothing about the race, beyond the proposed but "subject to change" start time, there is no doubt it will involve marathon distance snowshoeing, on mountains, under load, lots of chopping and carrying of wood, and extended stretches in freezing water (last year saw racers breaking through ice to stand neck deep in a pond for up to ten minutes).
My wonderful friend, Brigitte Brousseau, recently sent me this Ben Harper song, "
I Will Not Be Broken
", that has a perfect lyric heading into the Winter Death Race ...
"I will not be broken

When it's too cold to breathe

and too dark to pray

I will not be broken




I go too far then I go further still...




I've come too far to give up

or to be turned around

I will not be broken

I will not go down"
In the middle of all of that mountain madness, I will be keeping a clear mental image of this same General Store, knowing that it is only a matter of time before I will be back here. No matter how tired and cold I am tonight and tomorrow (and probably tomorrow night), Sunday will come and I will be back here with a new coffee in hand. And Monday will come and I will be back home in Ontario picking my kids up from school. And forty years will pass and I will be reminiscing about adventures like this one.
"
This too shall pass
", originated by Sufi poets, is one of the most useful philosophies there is. Remember it in ALL situations. If you are experiencing something awful, "this too shall pass", better times are ahead. If you are experiencing something wonderful, "this too shall pass", savour it and appreciate it as it won't last forever. It even applies to our whole lives, as I wrote about recently in
Memento Mori
... "I too shall pass."
And then I will be stardust again. And it's all good.